Thursday, February 28, 2013 Earbits' New Service Trades On-Demand Music Access For Social Actions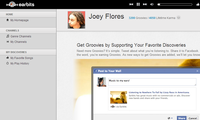 Earbits, the online radio and music marketing startup headed by Joey Flores, announced today a brand new service, which lets fans of musicians access their favorite music from artists on-demand, and for free, in exchange for social actions. The Los Angeles startup said that it has launched Groovies, a social currency which rewards users with unlimited music and rewards for social sharing and other actions. According to Flores, the new service lets fans of the artists on the site access their favorite tracks--for free, and on-demand--simply for doing things like "Liking" an artist's page, sharing a track on Facebook, and other actions.
Earbits is known for offering up an online radio service geared towards music fans interested in finding new artists and bands, with an emphasis on independent music. The site has been building up large catalog of musicians through its streaming radio service. The new Groovies program now lets listeners select tracks on demand--if they have enough Groovies--and also lets users save their favorite songs and albums for playback anytime they want. The company said the social sharing features will help benefit artists and labels, who use the company's service for marketing their music and finding new fans.
Earbits is venture backed by Y Combinator, Charles River Ventures, former Lala CEO Geoff Ralston and WordPress founder Matt Mullenweg. The service said it now has 480 labels, 8,000 artists and over 300 channels on its site.
---